Starting your first project is never easy.
However, when you start a project as a student, you're likely to have some perks over your older competitors.
Failing is ok.
Keep in mind that we may receive commissions when you click our links and make purchases. However, this does not impact our comparisons and recommendations. We try our best to keep things fair and balanced, in order to help you make the best choice for you.
Mistakes are expected.
And best of all, everyone wants to help an aspiring student.
If you're a student reading this now, you might not know the perks you have related to starting a project at a younger age.
But… one perk you probably don't have is money.
These days, no matter what project you work on, you need some sort of website.
In this article, we compare the best student hosting providers on the market, saving you from paying full price for your hosting.
Students everywhere are taking intuitive steps to get noticed, make money, or meet their grades. Whether it's building an online design portfolio, starting a business, or setting up a site as part of your course, creating a website has tons of benefits.
Of course, if you're building your site from scratch, then you'll need hosting, too. That's where things can start to get complicated – and expensive.
When you're down to your last can of beans in the cupboard, it's hard to justify shelling out on hosting. The good news is, there are plenty of hosting providers out there who won't charge you a month's rent just to keep your website up and running.
Whether they're dirt cheap prices, student discounts, or entirely free plans, we've found providers for even the most cash-strapped amongst you.
We know exams and assignments are causing you enough stress, so don't let choosing a hosting solution stress you out.
1. Bluehost
Starting off with a solid, reputable choice, Bluehost offers low costs, coupled with its supremacy in the shared hosting arena, is what makes this provider such a valuable deal. The Bluehost name is listed toward the top of many of our reviews categories, and with good reason. The brand is known for excellent hardware configurations, a generous list of extras, and fantastic support and reliability — all at a price point that's generally lower than the competition.
Known for performance at a low price
Endorsed by WordPress.org team
FREE Weebly site builder
FREE Cloudflare CDN
2. Hostgator
HostGator has been around for more than a decade and is well-respected for its large number of servers and consistent reliability. Known mostly as a shared hosting provider, HostGator still supplies decent dedicated and VPS options if you need your site to scale.
HostGator costs slightly more than some of the other budget-minded shared hosts, but that echoes the brand's reputation for strong infrastructure and helpful support. HostGator offers decent features in its basic shared hosting offerings, such as unlimited disk space, a nice control panel, and free website templates. Plus, you get the flexibility to add numerous add-ons for privacy, security, and productivity as you see fit.
Familiar and easy-to-use cPanel control panel
FREE drag-and-drop custom website builder
Unlimited disk space, email, and bandwidth on all plans
No contract required and 45-day money-back guarantee
3. HOSTNOC
If you are looking for IT solutions that don't put a huge dent in your wallet then look no further than HOSTNOC. Our affordable packages are designed with your needs in mind. Don't like any of these pre-built packages?
HOSTNOC even lets you create a custom package specifically targeted towards fulfilling your particular IT needs. Combine that with superior hardware, high speed network connection, more bandwidth and 99.99% guaranteed uptime and you cannot go wrong with HOSTNOC.
Here are some of the pros of HOSTNOC.
Pros:
24/7 support
99.99% uptime guarantee
Cheaper than other service providers
Fast and easy setup process.
4. Dreamhost


If you expect your project to get viral traffic, Dreamhost is the one to choose. A top-notch host for those who know what they're looking for, DreamHost offers nuanced and performant hosting perfect for scaling websites and applications through the ranks of shared, VPS, cloud, and dedicated hosting.
DreamHost is a bit more expensive than the others on this list, but If your site is growing and gathering more and more traffic, few hosts will take care of you as well as DreamHost. Managed services include infrastructure management, automatic backups and updates, malware scans, and DDoS protection.
Unlimited traffic, storage, websites, and email addresses
US-based customer support available around the clock
200% faster performance with solid-state drives
Receive one day of free service for every hour of downtime
5. InMotion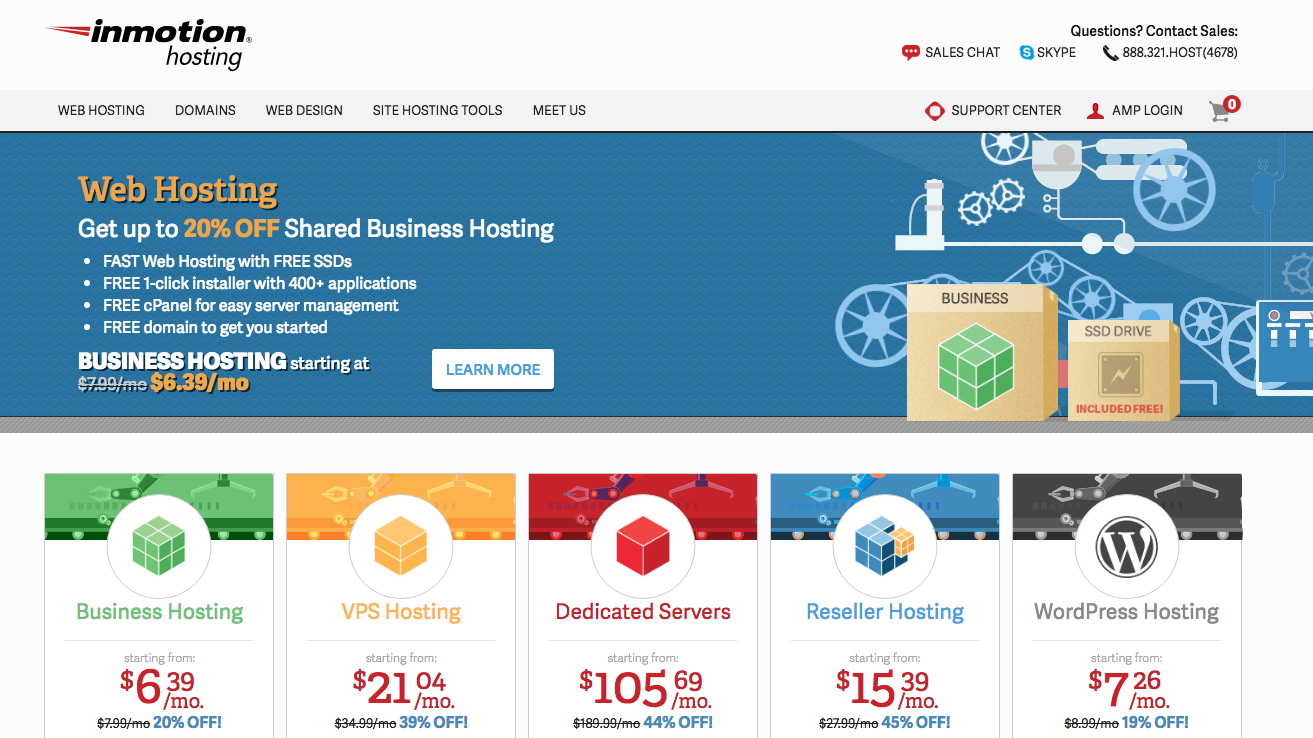 Offering a wider range of services than most — including shared, dedicated, VPS, and even WordPress-specific plans — InMotion Hosting features a great combination of industry-leading hardware, always-there support, and mass scalability for all hosting needs.
InMotion Hosting has nice SSD drives on its shared plans, which give an added speed boost to your site. The company's customer service and reputation are excellent in the shared space, though InMotion tends to be a bit higher priced than some competitors. If a little extra speed is worth a few dollars more a month, then InMotion is a good choice for you.
FREE SSD drives included with all hosting plans
Zero-downtime website transfers and migrations
FREE data backups, SSL certificate, and DDoS protection
Choice of East Coast or West Coast datacenter
6. GoDaddy
How could we not include the giant in the hosting space. If you've done any sort of research into hosting or even just from buying your domain name, you've probably ran into Godaddy.
The company makes it incredibly easy and affordable for folks to choose a domain name, sign up for hosting, and start building their online business or personal web property. While known for its domain, email, and shared hosting services, GoDaddy offers options for virtual and dedicated servers as well. The company makes the upgrade process as seamless as possible, so you shouldn't shy away from scaling your site as your business needs grow; GoDaddy is a hosting home that will grow alongside you.
Industry-leading load times
Award-winning support and security
World's #1 Domain Name Registrar
Choice of cPanel or Plesk included
99.9% uptime guaranteed
Conclusion
To wrap things up, if you're going to start a project, don't put too much time into finding a hosting solution.
Go with whatever one you find the easiest to set up a website on, and have a website running as soon as possible.
Learn how to do SEO on your website.
Constantly test new marketing strategies.
And that's how you can find success.