Email marketing is one of my favourite channels of marketing out there. Why? Simply, because it's 100% under your control. You don't need to deal with Facebook's algorithm changes, or Google's strict advertising policies, with email marketing, whatever is on your mind can be sent out to your followers. Direct to their mailbox.
If you've ever dug around the surface of digital marketing or along the lines of building your own website, there's a big chance you've come across the giant in the room: GoDaddy.
Why Send Emails?
Before we dive into Godaddy's marketing goodies, you need to understand why email marketing should be the backbone to your business's marketing engine. No matter what your project is; e-commerce, affiliate blog, traditional retailer, you should have email marketing on the top of your mind.
There's a well known saying we marketers and business owners all know: All Channels Eventually Go Stale. That is, no matter how good your channel of customer acquisition is currently, over time, more and more competitors will join the game and dilute your once unique and money-making method.
Facebook Ads was once the 'secret sauce' to many e-commerce businesses. Google Ads was once a money printing machine to those tried it out in the early 2000s. A main street storefront was once all you needed to have a successful retail shop.
But nowadays, the marketing space is very crowded. The moment a new channel lands on the market, marketers pounce and use the channel until it's dried up. So what's this got to do with email marketing?
Here's why.
The moment you have someone's email, that person's contact is yours forever. You control the channel. You control everything. And my favourite reason. You can send out hundreds of emails and it won't cost you an extra cent in ad spend.
So now that you know why sending out emails is super important, I'll explain why you should go with GoDaddy's email marketing solution.
All in One Solution
If you've bought a domain before, there's a big chance you got it from Godaddy. If you have a website up and running, there's a good chance it too is hosted on GoDaddy. But not everyone knows they have an email marketing solution. The biggest benefit of running your email marketing off of the same platform is that there's no need to worry about connection issues and verifying you own the domain… because it's all ran on the same platform.
Features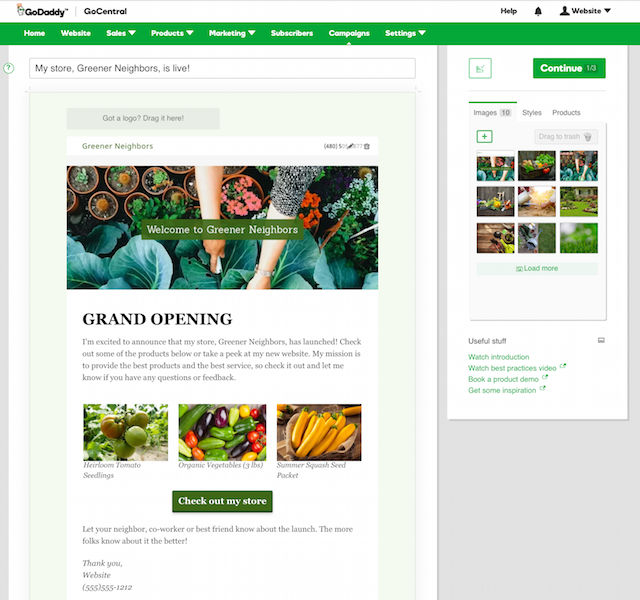 Godaddy's email marketing solution isn't short of any features. With built-in templates for you to easily customize to automation features, you have it all to turn email marketing into an automated lead generation (money printing) machine.
If you want to know the full list of features, here's what you get:
Unlimited signup forms: A sign up form is where you'll be asking for your readers to give you their contact details. Having unlimited forms will mean you can tweak each one depending on where you place it on the website. For instance, the home page form might be a simple name and email but if you're asking people to sign up to download a PDF, you can ask for more information like what business run, what industry they work in etc.
Unlimited image storage: This will mean you can store your collection of product images on the server and easily pick them out to showcase in your emails. No more running into storage space issues and having to upgrade plans and pay more.
Professional templates: This is one of the best features included. No more having to find a designer and spend hours working with them to create a template. Use the templates given and just change the colours to suit your branding.
Mobile-friendly designs: These days, how can you still have websites that aren't mobile compatible? Likewise for your emails. Most people will be checking their emails on their daily commute so having mobile first designs is a must.
Unsubscribe handling: In the olden days, when someone unsubscribes, you will just get an email notifying you. Imagine if 10 people unsubscribed? You would have to dig through your contact list and manually pluck them out. With Godaddy's solution, they will do that all for you. Automatically.
Works with Facebook, Etsy & More: Being able to intergrate with Facebook and Etsy will mean better emails. Let's say if you wanted to feature your latest social posts in your emails - the Facebook integration will take care of that. Want to feature the products you have on sale on Etsy? A built in connection will solve that.
Automated email campaigns: This feature deserves a paragraph in itself to explain how awesome this is. When someone signs up to your email list, you can run them through a sequence of emails created beforehand and eventually sell them products through emails. All done automatically. While you play. While you sleep.
Converts blog posts to email: This feature is quite unique to this platform. If you're spending so much time blogging already, why waste that content? This feature will automatically turn your blog posts into emails to be sent out to your email subscriber list.
Date-triggered emails: This scheduling feature will come in handy for those who want to be on top of their work. Create emails ahead of time so you won't have to rush when the day comes.
Share statistics w/others: Having access to data and analysing it is the key to having ongoing success. Being able to export your data to share with others and ask for their feedback will be a massive benefit to helping you grow your project.
A gallery of high-quality stock images to make emails look professional: This feature will mean you won't need to find an external designer, and having a access to a gallery of high quality stock images will save you time.
Customer Service
Godaddy's customer service is awesome. With 24/7 customer support, all you need to do when you have an issue is to ring the number provided and you'll get through and be able to talk with someone right away.
We hustlers normally spend our late nights working on our sites so the 24/7 support really does help. There's no need to wait till it's day time and call the number. I'll tell you this now, this feature is awesome.
I use to call them up at 10 pm on a Friday night to ask them how to change my DNS settings and a bunch of other questions.
Pricing
Godaddy is one of the more affordable solutions out there. Priced the same as Mailchimp, you get basically all the same features for the same price.
Conclusion
So to wrap it up, if you bought your domain from Godaddy and also host your website there, and want to have less stress, you should use their email marketing platform too.
Having all the features you need to have an email campaign up and running + having the benefits of being in one ecosystem (hello Apple users) will mean less time spent connecting up the platforms and more time building up your email automation machine.